Published 24 Sep 2020
Is a Photography Degree Worthwhile?
---
A career in photography requires business and technical skills and an artistic flair. Are these things best self-taught, or should you study photography formally?
Being a professional photographer doesn't require any formal qualifications, but you do need expert knowledge of cameras, how to perfectly frame and light pictures, and how to edit and enhance images with a host of software, such as Photoshop. You need to know how to work with subjects and clients, and potentially the ins-and-outs of running your own business. There's so much to learn! So, should you get a formal qualification such as a diploma or bachelor's degree, or teach yourself the ropes?
There is a multitude of photography types. We break down some of the most practical, lucrative, and trending styles and genres.
---
Read More
The Pros and Cons of a Photography Course
Pros
The opportunity to gain a technical knowledge of photography from professional photographers through coursework.
Photography students access a community of peers and teachers, allowing for many networking opportunities.
Opportunities to present your work in student exhibitions and student media.
Getting tons of feedback and workshopping time.
Depending on your institution, you may be able to rent or borrow equipment, allowing you to "try before you buy". Student versions of software like photoshop can also be cheaper.
You'll be exposed to different styles of photography like photojournalism and documentary photography, film and digital photography, fine art photography, portrait photography, commercial photography, and fashion photography.
You'll also be exposed to art theory, art history, and other fine art forms (particularly in a bachelor's degree)
You'll get structured time to develop your passion for photography – this can be difficult to get if you're relying on self-motivation, and if you don't have assignments and hard deadlines.
Cons
Tuition fees can be expensive, especially since there are a lot of free and low-cost educational resources out there.
As Michael says, "You need to invest in expensive equipment. It's important people take that into account before they get started."
Formal study isn't as self-directed as self-teaching – someone else determines the curriculum.
Formal education takes years.
You may not learn as much about working with clients, marketing skills, or running your own business.
The Paths to Becoming a Skilled Photographer
The three paths to becoming a great photographer are all valid, and all present their own challenges.
Path one: Self-taught
To some degree, every photographer is self-taught. Likely they've found themselves learning how to take great photos from the second they first held a camera.
Becoming a self-taught professional is a step-up in commitment and effort, though. This career path is perfect for the person who knows a lot already, can pick things up as they go along, has the confidence and drive to find opportunities and to find professional contacts.
Being self-taught doesn't mean being all on your own. Kit explains that when he decided to be a photographer, he got in touch with as many working photographers as possible. "I asked them if I could interview and meet them. After seeing them in action I was hooked."
"I was obsessed with learning all the elements of photography and networking with the right people. I did online courses, mostly free ones. I practised! I took my camera everywhere I went, it was like another limb!"
Finding mentors, getting real-world work experience by shadowing professionals, joining local photography groups, and enrolling in short courses are great ways to build skills and contacts.
---
Path two: TAFE or VET
TAFE courses are great for job prospects in Australia, don't take as long and aren't as expensive as bachelor's degrees.
Of course, it still takes a lot of perseverance to become a professional photographer. Michael says, "By the time I finished my course, about half the people who started were still left." Of the remaining photography graduates of around 30 people, only five have become full-time professional photographers. Becoming a photographer takes a lot of commitment.
TAFE photography qualifications such as a diploma of photography are great for the person who wants to understand the fundamentals and get hands-on, guided experience, who'll stick with it and be willing to learn more well after graduation.
Path three: Bachelor's Degree
Higher education degrees such as a Bachelor of Arts or Bachelor of Creative Arts are great for budding photographers who aren't in a rush, who want to learn practical skills from professional photographers and academics while also gaining a broader fine arts education.
Art school students will often take electives outside of photography, as well as art history and art theory courses. This can make it easier to pivot into careers other than photography, such as becoming an art teacher or academic, or working in galleries and museums.
Professional photographers have a range of photography skills, visual communication skills, and post-production skills. There are lots of study options and photography courses available, or you can go straight to getting real-world experience. The most important thing when thinking about embarking on a career in photography is choosing a path that will work best for you.
Explore Photography Courses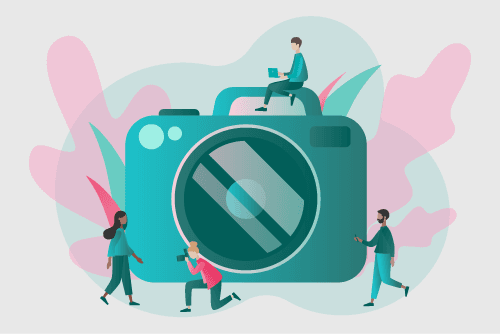 ---
Curious about what it's like to become a professional photographer? This photography career toolkit will equip you with everything you need to get started, including interviews with working photographers.