Published 23 Sep 2023
12 Types of Photography Careers to Make Your Passion a Reality
---
If photography has always been your passion, there's a whole range of new career opportunities to choose from — but first you will need to find your niche.
As businesses transition into digital spaces, photography has become even more valuable as a skill. More and more businesses need full-time photographers or freelancers to enhance their visual brand online. But if you want to truly excel and stand out in your professional photography career, you need to determine which industry best suits your skills and interests.
By discovering which photography industry matches your skillset, you can produce the best work possible and finally make a living doing what you love. These 12 different types of photography jobs are some of the most popular career choices. These examples are broad photography industries and, within them, there's the potential for even more avenues you can explore in your photography career journey.
Event photography lends itself to all kinds of industries and will provide you with countless opportunities, but you need to be able to think on your feet. Whether you're shooting a wedding, a live concert, or a corporate event for a private business, you will have to capture every moment as it happens. Once the moment passes, it's gone forever, so you need quick, critical thinking skills to capture the best photographs possible.
If you want to pursue a career as an event photographer, you have to be adaptable and flexible — prepared for photo shoots to be impacted by bad weather forecasts, timeline changes, and low light on a cloudy day. Event photographers need to make the most of every situation. If you thrive in a fast-paced, energetic environment and connect well with your potential clients, event photography could be just the right fit for you.
Commercial & Product Photography
If you're interested in the advertising industry, specialising in commercial photography could be a great career choice. All brands and businesses need marketing material, of course, but what do they need more than that? Pictures of their product. 
If you want your career to reflect your interests outside of photography, product photography can cater to that perfectly. If you're a foodie, you can pursue food photography, shooting for restaurants you love. If you're an Instagram addict and interested in style influencers, you can try fashion photography on for size, shooting for your favourite brands. If you have great attention to detail and exceptional technical skills, you could make a great commercial photographer. 
Portrait Photography
Portrait photography is all about capturing people at their best. This might be for your client's personal life, capturing memories in family photography, or in a client's professional life, shooting headshots for their portfolio.
Portrait photography is a great place to start if you're just beginning your career, providing you with the opportunity to fine-tune your skills as you develop your practice. As your confidence grows, you can explore portraiture in other industries that are harder to get into, like stock photography and fashion photography.
Much like event photography, portrait photography lends itself to dozens of different industries. In event photography, you need to be able to capture the moment; in portrait photography, you need to be able to capture the people in that moment. For example, wedding photography isn't just event photography, it's also portrait photography — and it's your responsibility to capture the wedding guests at their best.
There are approximately 120,000 marriages per year in Australia
99% of those weddings hire photographers
91% of the wedding photographers hired for those weddings are professionally trained
If you're a great communicator, love to connect with potential clients, and work well in a customer-service environment, you will thrive as a portrait photographer.
When most people think of documentary photography, they think of photojournalism. If you're interested in current events and want your work to capture that, photojournalism can offer you that opportunity. News photographers and photojournalists make a living photographing people and events as history unfolds, telling stories that need to be told.
On top of photojournalism, documentary photography also lends itself to science and wildlife photography. A lot of industries need scientific photographers and wildlife photographers to document new discoveries, which they might need for research purposes later down the line. Again, this is another photography style that involves storytelling; if your lifelong goal is to end up on the cover of National Geographic, this is the career path you should pursue.
Documentary photography suits great storytellers, so if you love to tell a story in your photographs, photojournalism is the perfect industry for you.
Fine Art Photography

If you want to bend the rules and throw caution into the wind, you might just have what it takes to pursue fine art photography. Fine art photographers produce work for gallery spaces – they are artists whose medium is photography. The art these photographers create is designed to be framed, in print, and typically sold to audiences at art shows or online.
Since fine art photography has no rules, you have to be innovative and driven to get into the industry. It can be very hard work. If your work captures a unique perspective that can connect to your audience without the need for words, why not pursue your passion creatively?
It's a risky business, but it can pay off: in the last decade, two fine art photographers have broken world records, each selling their work for an average of four million dollars. If you can make that much money off just one photograph, why not dream big? If you're driven by your creativity, fine art photography could provide you with the outlet you need to express yourself.
New and Trending Career Choices for Professional Photographers
Personal Branding Photography

Personal brand photography is a style of commercial photography; photographers create high-quality content for small business owners and social media influencers, designed to reflect their client's personal branding. This is an increasingly popular niche in the commercial photography world.

Travel Photography

Travel magazines, agencies and newspapers hire travel photographers to document the highlights of travel experiences. They capture cultural experiences, adventuring opportunities, and more.

Industrial Photography

Industrial photographers capture what goes on behind the scenes of manufacturing and industrial districts, photographing equipment, staff and machinery to be used as marketing material.

Pet Photography

You guessed it – pet photographers shoot photographs of furry friends, capturing memories for their clients. This is well-suited to any photographer that's also an animal-lover.

Sports Photography

Sports photographers are hired by sports magazines, newspapers and other publications to shoot portraits of athletes and recent events.

Real Estate and Architectural Photography

Architects and real estate agencies hire photographers to capture their building designs inside and out. Real estate photographers shoot the interiors and exteriors of buildings, capturing the beauty of spaces for their clients in order to help sell or rent the building. Architectural photographers, on the other hand, capture finished building projects for architectural firms, often for publication in architectural journals or to submit for prizes.

Editorial Photography

Magazines and publishers hire editorial photographers to work with their editorial team, shooting photographs that illustrate the key message of the text they're working with.
Two freelance photographers share their best tips for breaking into the industry.
---
Read More
Making Your Dreams a Reality
These are just a handful of the countless types of photography career opportunities in the photography world. Outside of these roles, photography skills are an asset in any career – customers expect quality photographs when they're purchasing any kind of goods or services, to guarantee that they're getting their money's worth. On top of that, social media is becoming a huge part of our everyday lives; more and more, we need show-stopping images to capture our attention.
So no matter what job you're applying for, employers will value your photography skills and appreciate your ability to find the beauty in everything. 
As children, we're constantly asked what we want to be when we grow up, and our dreams always match our passions exactly; we aspire to be artists, musicians, photographers. As we get older, those dreams are discouraged, considered to be impractical or even impossible. But really, those dreams don't have to change. Your passions are as practical as you make them. There's no reason you can't pursue your dream as a worthwhile career, you just have to change your perspective and focus.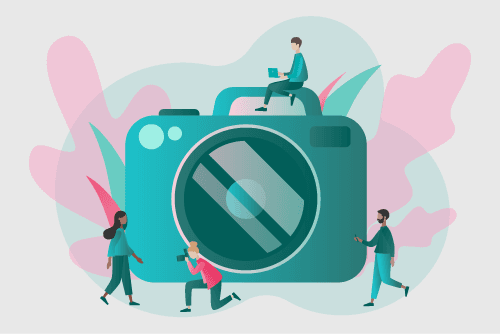 ---
Curious about what it's like to become a professional photographer? This photography career toolkit will equip you with everything you need to get started, including interviews with working photographers.