Published 1 Feb 2023
The Top Careers Where You Can Earn Over $100K Without a Degree
---
People often think the only full time careers that pay over $100K a year in Australia require a higher education degree.
But that isn't true!
Plenty of high paying jobs — in a variety of industries — only require a TAFE certification, short course, associate degree or specific training program. Some careers only have a minimum requirement of a high school diploma.
No matter your personality, there is likely to be a high paying job that piques your interest and does not require a university degree.
Five jobs that pay $100k without a degree
TAFE is a great pathway to some of the highest paying jobs in Australia, offering plenty of short courses that will assist you on your career path.
If you're in the market for a new job that pays an average salary of over $100k, but you don't have time for a degree, these are fantastic options.
1. Air traffic controller
---
---
AVERAGE SALARY
IN AUSTRALIA
---
---
An air traffic controller manages the safety and efficiency of aircrafts across Australia's airspace. They guide airline pilots' movements, helping ease flow of aircrafts and air traffic in, out of and between different airports.
Skills required
---
Ability to remain calm under pressure
To become an air traffic controller, you must complete a Diploma of Aviation (Air Traffic Control) (AVI50115) with either Airservices Australia or the Royal Australian Air Force. These are the only two institutions that can train and recruit air traffic controllers.
---
---
AVERAGE SALARY
IN AUSTRALIA
---
---
Construction managers coordinate and oversee construction projects such as buildings, residential homes and civil engineering. They plan, arrange and supervise everything and everyone involved in the construction, and ensure everything on the site is kept to schedule and completed safely.
---
---
AVERAGE SALARY
IN AUSTRALIA
---
---
Project managers plan and oversee projects within a company or organisation to ensure they are being completed within a given timeframe and budget. Their job involves monitoring project progression, organising budgets and resources and informing stakeholders on progress.
Project managers make sure that the projects align with the organisation's goals and vision. They are needed in a variety of industries including marketing, construction, healthcare and technology.
---
---
AVERAGE SALARY
IN AUSTRALIA
---
---
Sales managers drive sales for an organisation's products or services, meeting targets and overseeing a team of sales representatives.
They are continuously finding new techniques to engage and increase their customer base on a local, state or national level. Managers are also tasked with hiring new employees and maintaining client relationships.
Written and verbal communication

Strong work ethic (to meet sales and KPIs)
Although a formal qualification is not required to become a sales manager, some study to gain and refine your skills is recommended. Many sales managers undertake courses in fields such as marketing, business, or leadership and management.
---
---
AVERAGE SALARY
IN AUSTRALIA
---
---
A product manager oversees a software development organisation's product and life cycle. A product's life cycle is the period of time the product is introduced to customers, up until it is removed from the market. The product manager finds out what the customer and organisation are missing, and how the product vision fills this gap. 
Product managers require leadership and critical thinking skills, since they define the product strategy and roadmap which their team will follow. Communication and delegation skills are essential, as product managers oversee a team of people. 
How valuable is a university degree, really?
Completing an extensive college degree and spending long hours studying is not the only pathway to some of the best paying jobs in Australia. 
Vocational education and training reduces your time sitting in lecture theatres and gives you hands-on learning experience. In fact, on average, TAFE is better than University for career success. TAFE courses have a higher employment rate, higher job growth and higher average salaries for graduates.
The world is seeing a rise in academic inflation, meaning there is a rising number of people obtaining university degrees. The typical three or four-year bachelor's degree is losing its value, meaning people are studying longer courses to be qualified for some jobs.
It's becoming more common for hiring managers to be looking at your previous hands-on work experience when companies have job openings, rather than the courses you have studied.
---
---
Average TAFE graduate salary
---
Average university graduate salary
---
Many professionals, including Laszlo Bock, former Vice President of Google, believe that while education is worthwhile, universities do not replicate the real world. This is why Google no longer asks for academic transcripts during their recruiting process.
You don't have to be academically inclined to work a job that pays over $100K a year. Take a look at these professionals who have had career success without studying a bachelor's degree or master's degree.
3 TAFE graduates share their professional stories
Travis Godde
Business Development Manager with AFL
Travis Godde is a Professional Sales Representative with AFL Telecommunications, working as a Business Development Manager in Australian Capital Territory. However, he did not begin his career journey in sales, instead starting from a Certificate III in Cookery. 
After becoming a chef through completing his TAFE qualification, Travis decided to move into working as a storeperson for a large food service company. Through developing sales and management skills, along with years of experience, Travis worked his way into his current role with the AFL.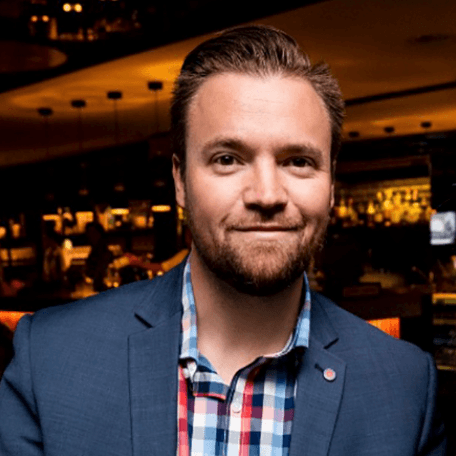 "I got to where I am today because of the work I have put in, because of what I believe to be my own self-worth, not that which a university degree tells someone else how much I should be paid."
---
Travis Godde, Business Development Manager, AFL Global

Rachel Power
Small Business Owner and Founder of Customer Consultants
Rachel Power is the owner of two cafes: Cafe & Gallery and Mountain Cafe & Fuel. She is also the founder of Customer Consultants, and creates her own merchandise through Van Diemen Designs. Rachel was on the board of directors of the Tourism Industry Council of Tasmania, and was a Derwent Valley Councillor from 2018 to 2019.
With such an impressive resume, people might automatically assume she completed a university degree. However, Rachel bypassed higher education and chose to follow her passions instead, including photography.
"I'm a strong advocate for the VET system and its ability to help students pursue their passions and graduate with the skills and experience needed in the workforce."
---
Rachel Power, Cafe Owner and Founder of Customer Consultants

Maddy Williams
Founder and Director of Bikini Bods Women's Kickboxing
Maddy is the Founder of Bikini Bods Women's Kickboxing Gyms, Australia. She delivers fitness programs for women based around Muay Thai kickboxing, boxing, and functional training classes for women.
Maddy chose to enter the industry to follow her passion for sport and fitness through a Certificate IV in Fitness. The course allowed her to develop the skills she needed to enter the workforce confidently and in a reasonable timeframe.
"I wanted a career where I would work doing what I loved everyday. I'm a very people-oriented and social person, and I wanted to be able to work face-to-face with people everyday. My qualifications gave me confidence for the real world and the knowledge I needed to know on the job as a fitness professional."
---
Maddy Williams, Founder and Director of Bikini Bods Women's Kickboxing

Other non-degree jobs worth considering that make $100k (or close)
| | Role | Earning Potential |
| --- | --- | --- |
| 1 | Information systems manager | $116k |
| 2 | IT manager | $116k |
| 3 | Human resources manager | $114k |
| 4 | Marketing manager | $101k |
| 5 | Software developer | $97k |
| 6 | Human resources generalist | $90k |
| 7 | Entrepreneur | $88k |
| 8 | Web developer | $85k |
| 9 | Computer programmer | $84k |
There are plenty of other jobs that pay over $100,000 a year and don't require a degree. While there is no harm in completing a bachelor's degree, it's good to know that there are options available for those out there who may not enjoy studying.
If university isn't your style, there are thousands of training institutions and courses available for you to complete. With hard work, you will be able to achieve that six-figure salary you're after.