Published 25 Sep 2023
How To Start a Photography Business: Insights From a Successful Melbourne Photographer
---
Being a photographer can seem like a dream job. The glamorous, jet-setting lifestyle, exciting shoots, the opportunity to unleash your creativity: it all sounds fabulous – and it can be! But what is also clear is that there is more to creating a successful photography brand than simply picking up a camera and shooting. It can be too easy to gloss over the less attractive – but equally important – aspects of starting a business. 
---
For anyone thinking about starting a photography business, getting real-life insight into how to get started, what is involved and what you can expect is pure gold. So we thought we'd go straight to the source, and interviewed successful personal branding and portrait photographer Prue Aja to get the 411.
Prue explains how being a professional photographer has allowed her to fulfil her lifelong dream, and given her the income and flexibility she needs to be happy in day-to-day life.  
These days conventional employment for photographers is rare, and most photographers have taken things into their own hands by freelancing or embarking on their own full-time business. With this in mind, we asked Prue some pointed questions about what she's learned. With her help, we put together some helpful steps to make your photography business dream a reality. 
What training do you need to be a photographer?
With a range of everything from bachelor's degrees, TAFE, vocational and private courses, you are spoiled for choice with learning options here in Australia. A qualification is not necessarily needed to start a successful photography business. It is up to you to find the type of photography course that fits your specific desires and requirements. 
 Prue looked into several courses before deciding on a TAFE Diploma of Photography and Photo Imaging. This particular course went straight back to basics, with high-quality content covering everything you need to work in a professional photography studio. 
---
I find with TAFE-based courses, you get the skills you need to be able to work commercially – and just get out there and do it.
What training do you need to start a business?
Imagine you set out to make a cake. How much easier it is when you have a recipe? It's the same principle as running a business. You might simply need to upskill in certain areas, or you might want a full course in business management. Luckily there are several small business courses available, full-time and part-time, that can help give you guides and steps to make your dream of being a business owner a reality.
What's the best way to learn photography? Three photographers share their perspectives: one self-taught, one TAFE-taught, and one studying at university.
---
Find Out
What is your point of difference?
What is going to make your business stand out? What is going to make someone choose your photography services over someone else's? These are questions you'll need to answer before you start anything else.
After a successful career in fashion, Prus started to see her feelings towards the industry change, mainly when it came to unethical practices in labour, sustainability and the environment.
---
---
I thought: why do fashion models get all the amazing photos when there are cool people out there doing awesome things with really boring corporate portraits? I wanted to make stylised, fashionable photos for people that have a positive impact on the world.
Here are the basics for any new photographer:
DSLR Camera + any relevant accessories
Tripod
Lighting
Photo editing software, like Photoshop and Lightroom
A computer fast enough to edit images
---
You can also hire photography equipment, which can be an excellent way to get started before being able to invest back in your business.  Prue found her first set of lights on eBay. As her jobs got bigger and the calibre of her clients got higher, she invested in newer and more professional equipment. 
Freelance photographer vs photography business
To put it simply: as a freelancer, you have a skill that you exchange for money. 
As a business owner, you also sell a service, but you will place more importance on personal branding, sales and scaling up. You will have more focus on management and creating a sustainable business model.
The business plan
A photography business plan is a must-have. You plot out your business structure, the steps you need to take, resources required, start-up costs and discover any holes you wouldn't have seen otherwise.  Many courses you can take will arm you with a business plan, and there are even handy tools provided by the Australian Government like this business checklist or business plan guide.
How will you market yourself?
Unless you have a background in marketing, you will need to learn how to get your business out there. With a wealth of courses available to help you with your marketing plan, you can select one specifically for your upskilling needs.
Prue found this one of the most challenging aspects of starting her business. Highlighting the importance of using social media accounts, she says building your portfolio, showcasing your best work and having your contact information available straight from Instagram is a great tip.
Can you make money running a photography business?
Scaling up a photography business takes a little thought. There is only one you, and you only have so many hours in the day. So how do you make the business bigger than yourself? 
Prue hit a roadblock when she had reached her work capacity. She decided she could either charge more or delegate work. She now has retouchers for her editing and will outsource other photographers when she isn't required on a shoot.
Prue is also a big believer in business and personal development. Having made this a priority for her career, she decided to start an online business course for photographers. 
---
---
I have invested a lot in business development over the years. I'm always either doing business development or personal development, and they go hand in hand with owning a business.
Essential things to consider before starting
Networking

Making friends in the industry is key to keeping up to date with the industry, collaborating and picking up potential clients or word-of-mouth projects.

Pricing

It is so important to know your worth as a photographer and charge accordingly. Prue found this a huge challenge but knows now having the right pricing structure from the start will save you a lot of hassle in the future. She also now takes a 50% deposit to book her time.

File Management

Start as you mean to go on and set up a system to archive images properly, labelling and filing each shot, so it's easy to find.
"I think the hardest thing was probably knowing how much to charge; there is nowhere to go for that. That is something I teach in my course."

In Australia, we are so lucky with the variety of business resources we have available to make many career-dreams happen. With the right start and the groundwork laid, your own photography business could be as successful, enjoyable and fulfilling as it has been for Prue and many others.
Browse Small Business Courses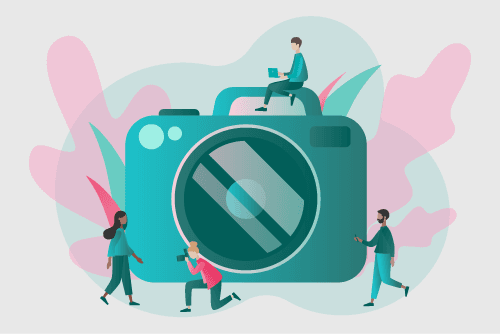 ---
Curious about what it's like to become a professional photographer? This photography career toolkit will equip you with everything you need to get started, including interviews with working photographers.