Published 27 Sep 2023
How To Become a Freelance Photographer: What You Need to Know
---
Browse Photography Courses
Looking to get creative?
Capturing photos can be an enjoyable craft, but it requires plenty of practice to reach a professional standard. To make a full-time career out of photography, you will need a breadth of knowledge beyond the lens, including editing skills, networking and a great deal of perseverance. Freelance photography is the most common way to get work as a photographer, as permanent positions can be challenging to come by. To help turn your passion into a profession, we've spoken to two professional photographers to breakdown everything you need to know about starting a career in this industry. 
Michael
Michael Rees-Lightfoot is a professional portrait photographer who works both for his own studio, Socialise, and also taking on freelance photography jobs that come his way. His journey into the world of photography began by undertaking a Diploma of Photography and Photo Imaging at RMIT University. During his time studying, Michael developed his craft and met other creatives to expand his network. Studying also afforded Michael the chance to borrow high-end camera equipment before purchasing his own.
His introduction to the industry was through assisting with other photographers, expanding his industry and photography knowledge. After a while, Michael began working on his own as a freelancer. He has captured moments for a wide range of brands, events and businesses. Michael's work with Socialise has also seen him increasingly taking on videography jobs. Michael's work behind the lens can be seen at both Socialise and Okay Photo.
Gavi
Gavi Fernando is a professional event and portrait photographer operating in an entirely freelance capacity. Working at a range of private functions, nightclubs and corporate events, Gavi's interest in photography began through experimenting with an entry-level camera. Gavi started by making an online portfolio, using social media to reach a broad audience. 
After working part-time jobs to save up for professional camera equipment, Gavi began sending his portfolio to a variety of event businesses. After getting his foot in the door, Gavi's reputation for high-quality work spread via word of mouth. After being inundated with photography work, Gavi was able to quit his part-time jobs and focus on photography full-time. Expanding into product, real estate and portrait photography, Gavi's freelance work sees him taking photos for a variety of businesses.
Becoming a professional photographer requires great dedication to the craft. It can be daunting, when looking at professional bodies of work, to conceive how you might one day reach that level of quality. Professional photographers like Michael and Gavi both started in this position and through perseverance have made successful full-time careers out of freelance photography.
The first step into deciding to make a career out of photography is to play around with any camera you can get your hands on. Whether you can borrow a friend's camera or even use your smartphone, exploring the different techniques, settings and functions of a camera is a great way to get started. Gavi became interested in photography this way, and he highly recommends it to get an understanding of how important lighting is in photography.
When it comes to taking your photography to the next level, there are various study options available to become a proficient photographer. Studying allowed Michael to use and become comfortable with top of the range equipment, which can be a great way to determine what equipment you might need in your career.
Study Options
There are plenty of study options on offer that will help you enter the world of photography. Photography courses will typically cover the technical skills of capturing a digital photo and using photo editing software (including Lightroom and Photoshop). These courses also cover business skills, including marketing to help you reach potential customers. A Certificate IV in Photography and Photo Imaging will provide the practical elements needed to establish yourself in the photography industry.
Beyond Certificate and Diploma options, a Bachelor of Design Arts (Filmmaking & Photography) is worth considering for its broad coverage of digital photography skills and videography content. Studying photography also offers opportunities to collaborate with other creatives which are a great way to build your network within the industry.
Freelance vs Starting a Small Photography Business
After establishing yourself as a successful freelance photographer, you might be considering branching out and starting your own small photography business, or you may want to continue freelancing. Both pathways have their pros and cons, and it ultimately comes down to what working style you prefer.
Working as a freelance photographer offers fantastic variety within your work. Capturing photos for other businesses allows you to work across a wide palette of opportunities and not become stuck working on just one type of photography. Gavi loves that freelance also requires less time spent on admin tasks in comparison with operating your own business. However, working freelance jobs also creates a reliance on other businesses, which typically means the business will take a finder's fee out of each photoshoot.
If you prefer to be your own boss, starting a small freelance photography business could be an attractive option. Working for yourself allows you to focus on a particular niche of photography that piques your interest. If successful, you may also be able to offer work out to freelance photographers and make money from finder's fees.
Starting a photography business does also require plenty of business acumen to establish your brand, and marketing strategies to find new clients. Working for your own small business can also make branching out into a wide variety of photography styles difficult. Brands can sometimes gain a reputation for specialising in a limited amount of areas based on their brand portfolio. 
A portrait and personal branding photographer shares her tips for starting a small photography business from scratch, and scaling up.
---
Read More
Tips and Considerations

No two journeys in the photography business will look the same. However, there are several tips to consider that both Michael and Gavi have recommended, based on their careers, including:
---
Start by figuring out if photography is for you
Play around with what equipment you can get your hands on
Research and consider different study options
Think about what type of photography you want to specialise in
Begin building a photography portfolio to showcase your best work
Start saving; photography equipment is expensive!
Build your network (joining Facebook groups in your city is an excellent place to start)
Start contacting venues/studios/businesses that might be offering opportunities.
Take on assisting jobs to build upon your knowledge and expand your network
Be persistent!
A freelance photography career provides exciting opportunities to work in a rewarding industry. If you're looking for a job that encourages you to be creative and has plenty of work on offer, a career in freelance photography might just be for you!
Browse Photography Courses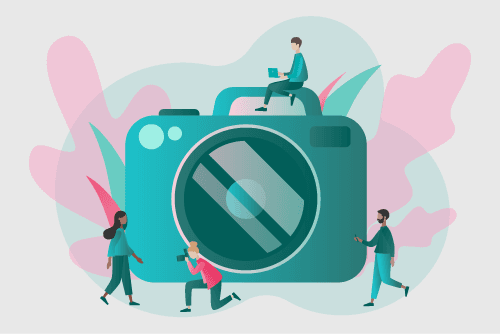 ---
Curious about what it's like to become a professional photographer? This photography career toolkit will equip you with everything you need to get started, including interviews with working photographers.