Published 1 Feb 2021
How to be Successful on Tik Tok: Small Business Style
---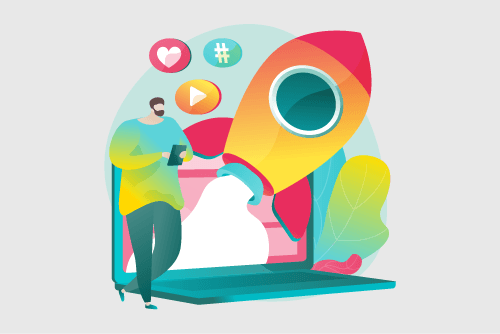 Keep your small business relevant and noticeable by using TikTok to refresh your digital marketing strategy. Attract a successful, engaged online audience with Tik Tok by following our how-to guide below.
Browse Small Business Courses
What is TikTok?
Tik Tok is the video-sharing social media app that has taken the world by storm. From dancing to comedy skits to educational how-tos, this platform is a no-brainer for small businesses that want to reach an engaged audience.
Need to wrap your head around the platform first? Here are some facts to get you started:
---
Videos can range from 3 seconds to 1 minute in length
Videos can be filmed directly with the app's camera function, or you can upload footage from your phone's camera roll
Videos are vertical in orientation
There is a library bank of popular songs and "original sounds" (recorded and released by other users) you can use for your videos
You can record your own sounds
Similar to Instagram, people can like, share and save your videos
Hashtags help categorise your videos into people's personalised "for you" pages (like Facebook's newsfeed) based on relevancy
So, why TikTok?
TikTok has quickly become one of the most popular apps in the world. Here are some statistics to explain how:
---
It's used in over 150 countries worldwide
At the start of 2020, Tiktok had over 800 million users (this number is sure to have increased!)
Tiktok ranks No. 6 in the highest number of monthly users for mobile apps
The average Tiktoker spends 52 minutes per day on the app
---
TikTok's "For You" page is a constant stream of content. The app curates this feed to each individual user depending on previously liked and engaged-with content. Often, trending dances, songs and sounds find themselves on most users' "For You" pages. If your small businesses can tap into these trends, you're golden.
To get a real-life picture of how small and home-based businesses benefit from being on TikTok, we asked some business owners about their experiences with the app. Overall, the app helped business' marketing strategies in three main ways:
---
1. It's easy to set-up, maintain and understand trends
TikTok's user numbers are continuing to skyrocket, and businesses are finding their brand exposure rise with it. If you choose to go down the paid advertising route, TikTok's niche audience profiles will help target your campaigns to ensure maximum eyeballs are on you and your brands.
---
"...if you do not have an agency looking after your TikTok strategy, an in-house digital marketing employee can learn it easily."
---
2. Attracting eyeballs
For some small businesses, having a large marketing budget isn't possible. If outsourcing your marketing needs is hurting the bank, TikTok is easy to use and can be completely free if you choose to stick to organic posting (non-paid advertising)!
---
"...it is still new to the market in Australia, and there is lower competition than other platforms, and with the right targeting in place and the platform's positive, creative nature, it is brand safe."
---
3. Building brand affinity
Whether you choose to stick to organic posting or paid campaigns, TikTok lends itself to creating personable and positive content that attracts not only eyeballs but also loyalty. Correct targeting to your preferred niche audiences and quality content has been found to stimulate brand excitement and engagement both on and off the app (this means sales)!
---
"...it is a low-cost way to increase brand loyalty, encourage engagement with your audience and build your brand."
---
"Tiktok enables a better connection with the audience as you are able to express your small business in fun and interesting ways."
---
"Talk to your fans, and read their comments, make sure you are making content that is valuable to them."
What content works?
TikTok's content library is huge, and the ways a small business can advertise their products are numerous. Relatability and humour are critical for small business TikTok. How you choose to do this, however, can be tailored to suit you and your brand. Here are some tips and ideas to help create unique, on-brand and engaging content.
---
Use trending sounds to create humorous skits with your business' employees, products or services as the central focus.
Do "meet the team videos" using trending songs, sounds or dances – make your brand seem approachable and fun!
Produce short product tutorials or how-to videos to introduce your services and or product ranges.
Show a glimpse of your business's behind-the-scenes and create a "day in the life" mini vlog.
Getting your content noticed – "going viral"
Hashtags are metadata tags that help cross-reference content that shares a common theme or message. By using the right hashtags, your content will have a larger chance of landing on the right type of potential customer's "For You" feed. Here are some tips on how to use hashtags from business owners.
---
Don't overdo it! Aim for 2-3 hashtags
Balance the use of brand-relevant versus trending hashtags
Look into hashtag generators to help you find the right ones
Take inspiration from similar accounts to yours
Jump on trends
Trending songs and sounds are a great way to stay relevant. TikTok trends move quickly, so make sure you stay ahead of the curve and check the app often. If you find a trend you like and fits your brand, make sure you put your own character into it to make it original and fresh!
---
"...be an early adopter of trends, whether that is actions in the video or songs that are starting to trend, they are likely to be favoured in the TikTok algorithm."
Post regularly
The most important thing you can do to gain popularity is to post regularly. Interact with your viewers, interact with other accounts and make sure you take note of what's working and what's not. Be adaptable.
---
"Be fearless and have fun producing videos. Don't let fear stop you from posting your ideas. Collaborate with other accounts and brands."
Where does Tiktok fit into your overall marketing?
Overall, the power of social media for small business growth is undeniable. TikTok should be one of a few online platforms your business occupies. TikTok allows users to link to other relevant platforms on their profile's page, so make sure your account provides easy navigation to your Instagram, website, or Facebook.
Allow TikTok to be where your brand's creativity, humour and personality can shine. Users thrive on real, raw and relatable content on this app. Then keep your Instagram, Facebook and website looking polished to show potential clients you're capable of both!
Now that you've wrapped your head around Tiktok, it's time to create your account and get filming! Make sure to harness the full capabilities of social media to help your business stand apart in this competitive market.