Published 15 Dec 2020
The 5 Most Enjoyable Jobs in Australia: What Careers are Most Satisfying?
---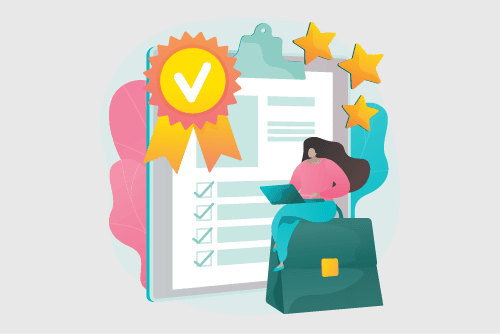 Australia's most enjoyable jobs provide a mix of job satisfaction and security. There are opportunities to help people and make a meaningful difference in the world, with plenty of room to develop and grow.
What makes a job enjoyable?
Like a fun job, an enjoyable job is satisfying and allows you to maintain job security. An enjoyable job will also tap into your values. It may be challenging work, but in performing your role, you can make positive changes in the world.
Careers that are rated as most enjoyable most often involve caring for, protecting, or teaching others. Here are some features of enjoyable work:
---
You know you're making a powerful, positive difference in others' lives.
Your skills and knowledge feel useful.
You get a sense of purpose and meaning from your work.
Your work is secure – there's a demand for your skills, you can get a permanent position and progress through your life, and has a good average salary.
The five most enjoyable careers in Australia
1. Firefighter
Firefighters respond to emergencies including (obviously) fires, as well as search and rescue operations and car accidents. Their job is to save people's lives and to protect against property damage and hazards to public life.
Alongside the satisfaction of protecting people's safety, firefighters also rate the job highly for work/life balance. There are opportunities for work flexibility, although you'll have to be prepared to do shift work. There's also a lot of variety – no two jobs are the same, and so you and your team will have to quickly figure out how to tackle new challenges at the start of every incident.
It can be a stressful job too, and there are, of course, risks involved. That said, firefighters build their fitness, knowledge, and skills throughout their career, and so are trained to perform. There are also always teammates around you to help out with any difficulties and to debrief after a difficult incident.
No qualifications are required to be a firefighter, although a high level of fitness is required. Vocational training in firefighting and public safety is also available and useful. You can check the recruitment processes of your state, e.g. Fire and Rescue NSW, The Department of Fire and Emergency of Western Australia, or  Queensland Fire and Emergency Services, and similar.
2. Nutritionist
Nutritionists give people advice about diet, health, fitness, and wellbeing. They follow-up initial consultations and monitor the progress of clients. Eating is a fundamental part of all of our lives, but it can be challenging for many people – your skills and experience as a nutritionist can genuinely help.
Working as a nutritionist also has excellent opportunities for maintaining a good work/life balance as you take on a caseload that suits your needs. It also allows you to work with a range of different clients on different challenges, bringing variety into a typical workday.
The job title of 'nutritionist' is unregulated, and requires no specific formal qualifications. Still, training is needed to understand the complexities of nutrition and wellbeing and to be included on the Nutrition Society of Australia's Voluntary Register of Nutritionists, which notes your credentials. Qualifications such as a Diploma of Nutrition or Bachelor of Science in Nutrition would provide a valuable grounding in the field.
---
3. Teacher's aide
Teacher's Aides support classroom teaching and learning in schools through admin assistance, preparing resources, classroom support with students. They can also provide specialist support such as disability support, or school-wide literacy or numeracy support.
The job is satisfying because you make a difference in the lives of children and young people – helping them learn, and to access any extra attention they might need.
Teacher's Aides also enjoy a good work/life balance. Typically, they have school holidays free and only limited work outside of school hours. Schools often also facilitate part-time and flexible work arrangements.
Currently, there are no qualifications required to become a Teacher's Aide. Still, the benefits of the job make it competitive for job seekers, and qualifications can help you get employed. Most Australian schools will also prefer you to have education training, such as a TAFE qualification in Education Support.
---
Counsellors offer support and guidance for people experiencing emotional distress and challenges in their life. A counsellor will:
---
Help people reflect on challenges in their life and set goals for addressing them.
Allow people to talk through their problems in a confidential, non-judgmental setting.
Mediate relationship issues – such as through family or couples counselling.
Support the overall wellbeing of their clients.
---
Counsellors can have specialisations in different types of problems or clients, such as specialising in careers counselling, couples counselling, or adolescent counselling; or they can take on a variety of clients.
Counselling is currently not a regulated profession in Australia. Still, to be formally registered as a counsellor and to take out public liability insurance, you are required to hold a qualification such as a Diploma or Bachelor's degree in Counselling.
---
5. Practice Nurse
Practice nurses work on the staff of a general medical practice to support patients. They are involved in making patient assessments, immunisations, assisting with procedures, and dressing wounds. They actively make a difference in people's health outcomes by educating and treating patients in a vital healthcare setting.
Practice Nurses rate their job as enjoyable and satisfying. They also rate it high for work/life balance and variety. Often flexible working arrangements are available within general practices, and the patients you see will have a broad mix of concerns.
To become a Practice Nurse, you'll need training in nursing, and to have qualified either as a Registered Nurse or an Enrolled Nurse.
---
10 Highest Paying Enjoyable Careers
These careers provide job satisfaction and impressive pay scales. Many of these roles are far above entry-level, because they require excellent leadership skills and involve imparting guidance and direction to others in the workplace. Others focus on delivering practical outcomes — like constructing buildings and goods manufacturing — and facilitate the work of major industries.
---
Construction Manager ($200k+)

Manages building sites so that construction is efficient, high quality, and safe. They may be involved with developing infrastructure or real estate development and work with tradies like builders, electricians, and plumbers.

Engineering Manager ($200k+)

Manages civil engineering projects to their successful delivery.

General Manager ($200k+)

A senior business role requiring a high-level overview of a company's operations, processes, and profitability.

Project Manager ($120-140k)

Manages the team members and processes for the successful completion of tech projects.

Supply Chain Manager ($120-140k)

Making sure that a company has a strong and efficient supply of raw materials to make and sell their products.

Change Manager ($120-140k)

When companies make massive changes (e.g. restructuring or merging), change managers are responsible for making sure the transition goes smoothly. They may be involved in information technology shifts or managing risks identified by actuaries.

Shotfirer ($120-140k)

Prepares explosives to demolish buildings.

Diesel Fitter ($120-140k)

Repairs and maintains heavy vehicles/industrial machinery with diesel engines.

Management Consultant ($120-140k)

Provides advice to businesses on improving their efficiency and operations.

Pilot ($120-140k)

Flies planes safely and on complex schedules.
How to choose a career you'll love
Choosing a career you'll love can be difficult – there are so many different opportunities out there. But here are some tips for finding the right career for you:
---
Identify what would make a satisfying career for you

Would it involve helping people on specific issues? Providing expertise or advice? Teaching people?

Identify what you need out of a job

For example, do you want a good work/life balance? Variety? Something high paying? Want to work full-time or part-time? Make a shortlist of careers that will cater to those priorities.

Work with what you have

Identify your existing skills and experience and figure out how can you use those strengths for satisfying or fulfilling outcomes. For example, if you're a spreadsheet whiz, those skills could be really handy for a non-profit organisation whose mission you support; or if you're a great kids' soccer coach, maybe you're at the beginning of a teaching career path.

Don't be afraid to change direction, reskill or upskill

It's never too late to learn new things or expand your skillset, and there are plenty of courses out there that will help you thrive in a new job.

Research jobs you may be interested in

After making a shortlist of potential careers, it's a great idea to talk to people already in those jobs, find a mentor, reach out to people in your dream role on LinkedIn or other social media, or read online reviews about what the day-to-day is like.
An enjoyable job allows you to work on something you're passionate about, giving you a sense of purpose while also offering a steady income. With some hard work, research, and exploration, your next enjoyable job is in reach.
Find Career Satisfaction
---
Fun jobs give you satisfaction, let you harness your skills and interests, and couple good work-life balance with job security. Here are some of the most fun jobs that tick all these important boxes.
Find Out