Published 12 Feb 2021
Blue Collar vs White Collar Jobs: What You Need to Know
---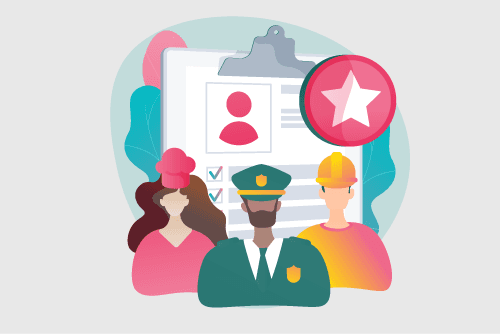 Want to know whether you should do a blue-collar job or white-collar job? Learn more about the differences between the two here.
Browse Vocational Courses
Chances are, you've probably heard of the terms "blue-collar" and "white-collar" before, you may know what they mean. Unfortunately, they've been plagued with stereotypes and misconceptions that need to be cleared up — which is what we'll do today in this guide. Let's take a look at these two terms more closely. 
What's the difference between blue-collar and white-collar jobs?
As the name implies, white-collar jobs typically refer to working in an office environment, though some can work remotely at home. They consist of administrative, managerial and clerical responsibilities. Essentially, desk jobs.
On the other hand, blue-collar jobs involve manual labour, such as handling heavy machinery and equipment. They typically involve collaborating with a third party contractor. It is also commonly associated with the working class, though nowadays reality does not reflect that. More on this later on.
Examples of white collar jobs
High school teacher
Architect
Real estate agent
Lawyer
Pharmacist
Accountant
Marketing manager
Software developer
Research analyst
Software developer
Financial advisor
Civil engineer
Clerk
Examples of blue collar jobs
Plumber
Electrician
Firefighter
Police officer
Bricklayer
Mechanic
Carpenter
Welder
Building inspector
Elevator installer
Gas plant operator
Transportation inspector
Truck driver
Who makes more money?
The consensus is that white-collar jobs gain more, but that isn't necessarily true. Since more and more people are going to university, there's been a saturation of white-collar workers, which may have altered the amount they earn.
As a whole, it depends on your position and how you make your money. White-collar jobs consist of typical nine-to-five work weeks and earn a monthly wage, whereas blue-collar workers are often assigned a set number of shifts, often working early in the morning or late into the night, and are paid by the hour.
That doesn't necessarily mean that blue-collar workers can't rake in the high salaries though. For example, a sales representative in Australia earns $67,860 on average while a paramedic earns $85,404 per year. 
How to study: the differences
While there are obviously exceptions, in order to qualify for white-collar jobs, you will typically need tertiary education — at the very least a bachelor's degree in your field of choice.
Blue-collar jobs vary a bit, sometimes you might only need a high school diploma, but nowadays, more and more companies are asking for a vocational degree and an apprenticeship under your belt.
However, as you'll see by the end of this article, educational requirements for both are becoming more similar recently.
Let's talk about stigma
For many blue-collar jobs, the vast majority of workers are male (e.g.: 97% of building and plumbing labourers are men). Sexism seems to lurk around every corner, from the education to the workplace to the general macho air associated with these fields.  It's no wonder that women are a bit daunted breaking into the field.
That being said, there are measures in place aiming to close the gap between men and women in the labour force, like the Gender Equality Strategy in the Victorian construction industry (GES).
People might discourage you because of your gender, but just because a particular area is male-dominated, doesn't mean you can't be qualified and do a good job. 
The narrowing gap
Recently, there's been a bit of cross over between white collar and blue collar education, and subsequently, certain aspects of work. Gone are the days where blue-collar workers have to slave away at repetitive strenuous tasks. Now they have access to a more diverse array of roles that are more knowledge- and digitally-focused.
According to one report, 70% of blue-collar workers surveyed said that technology had been the most significant factor that had the biggest impact on their work. Because of this, more educational qualifications are being required, with salaries growing higher. The stark division between blue-collar and white-collar has become a thing of the past.
Simply put, if you want to work in an office and think of yourself as more academically inclined, then a white-collar job should be more suited to you. But if you want to be more practical, then go for blue-collar!