Published 21 Sep 2023
How to Become a Building Designer: Your Creative Career
---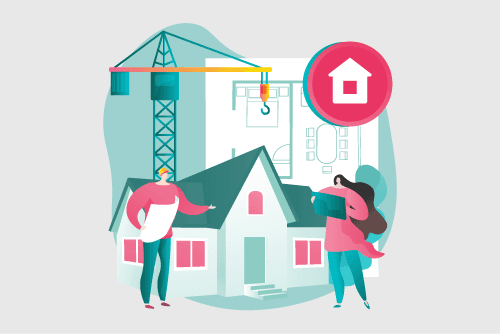 There's a common misconception that working a creative job isn't a viable option for most. However, with the right information and attitude, you can direct your creative energy into a sustainable and fulfilling career! Becoming a building designer and creating new homes is one way to achieve just this.
Browse Building Design Courses
What is a building designer?
Once known as draftsmen or draftspeople, a building designer can offer several professional services to their clients. However, first and foremost, they are responsible for designing and planning functional, efficient and creative homes. Building designers work to translate their clients' ideas and dreams into reality. Hence, thorough knowledge of design, the building trade and relevant construction laws is required.
Building designer versus registered architect
Architects and building designers are similar in their responsibility to their clients: aiding the design, planning and sometimes construction of homes. Architects, however, undergo extensive tertiary education and practical placement to advise their clients both creatively and practically.
Building designers, on the other hand, can operate without any formal qualifications. This makes it a fantastic option for those looking to enter a creative career without a long study commitment. Thorough knowledge and invested interest in any formal design field can help you get started on this career pathway.
---
"I worked as a real estate agent and later a communi­­cations manager before I finally turned my passion into my profession and got a design diploma."
—Martina Hayes, building and interior designer specialising in renovation
---
Although building designers may not have the licensing restrictions that architects must operate under, they are permitted to operate within local building and planning regulations.
What does a building designer career look like?
Building designers may help prospective homeowners through several steps concerning the planning, designing, renovating, construction and interior design of their dream homes. Hence, these professionals need a wide range of skills to meet their professional responsibilities effectively.
Some essential skills include:
Design
Creative and conceptual thinking
Producing working drawings
Drafting
Thorough understanding of design concepts
IT
Good understanding of design programs
Computer-aided design and rendering (ArchiCAD)
Construction Business
Data analysis
Ability to write business plans and budgets
Market research (for suppliers and resources)
Project management (liaising with local councils and contractors)
Thorough knowledge of building sites, building plans, floorplans, permits, and protocols
Communication
Exceptional interpersonal skills
Active listener
Good written and oral communication
---
A building designer's clients are the most crucial piece of the puzzle. Hence, although practical design skills and knowledge of building work are imperative, your ability to join your creative flair with another person's vision is central!
---
"It's ALL about the client, finding out what they love, who they are, and finding the perfect balance between their budget and their dreams."
An industry overview
Building design has strong projected industry growth. Job opportunities are projected to rise by 19.5% in the next five years.
---
Very Strong
growth predictions for next five years
building designer
typical average salary
---
Furthermore, building design is financially stable, with an average annual salary of 80k. This figure can rise with more years of experience and positive referrals under your belt! Building design is also reported to have high job satisfaction, due to high rates of job security and the ability to achieve a healthy work-life balance.
Becoming a building designer
As mentioned above, building designers technically don't need any formal qualifications or accreditations to operate within Australia (this means no required university degree!).
---
You may be required to register yourself with your Australian state's building designers association.
---
Many people who have previously worked within the design industry, or just have an interest in architecture have oriented themselves to building design with ease. Others have entered the field after completing a design course, such as an Advanced Diploma or Diploma of Building Design, as a pathway into the field.
---
"I didn't thrive in a school environment, but when I started on this path, I knew I had found my calling."
Building a portfolio
People choose a building designer based on their previous work and their projected ability to bring their ideas to life practically and economically. An aesthetically-pleasing, well laid out portfolio coupled with excellent customer service skills can set you apart from not only other building designers — but architects as well!
Make sure you:
---
Bookend your folio with your best house designs
Choose a well-formatted, visually appealing layout
Always keep the folio updated
Tailor your folio to the client if possible
---
Your portfolio can display to prospective clients your ability to bring their home to life no matter the foundations you're given to start with.
---
---
My favourite part of being a Building Designer is the initial stage, where I get to sit down with the client and really get to know them, what their values are and how they would like their home to suit their lifestyle. I love being able to sit with them and see the stress start to leave their faces, as they begin to trust me as their designer.
Working as a building designer can be a viable, financially secure and fulfilling career path. By upskilling your current design skills and building your portfolio with confidence, you'll be well on your way to landing your first Building Designer role!
Take the First Step
---
Fun jobs give you satisfaction, let you harness your skills and interests, and couple good work-life balance with job security. Here are some of the most fun jobs that tick all these important boxes.
Find Out